Tattoo Removal
Consultations offered at our two convenient locations in Alhambra and Santa Ana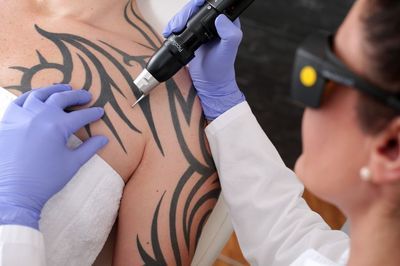 There's no need to suffer the consequences of a bad tattoo decision any longer.
Dr. Hannah Vu at Skinzone Laser & Cosmetic Surgery in Alhambra and Santa Ana, California, offers efficient laser tattoo removal services to erase tattoo marks in just a few treatments. Using Cutera's Enlighten™ laser process, you can finally be through with that old tattoo.
FAQs
What is Cutera's Enlighten laser process?
Dr. Vu uses Cutera's Enlighten laser treatment to eliminate tattoo ink efficiently. The technology uses non-invasive short and high-powered laser pulses to break up ink into tiny particles. The skin absorbs particles, and your body eliminates them naturally. The Cutera Enlighten laser technology offers efficiency and comfort with great-looking results.

What is the benefit of the Cutera Enlighten laser process?
This advanced laser technology removes tattoo ink faster and more efficiently. You receive better removal results with fewer treatments.

For many people, the tattoo disappears entirely with the right number of treatments. Some ink colors are more difficult to erase, and Dr. Vu discusses the expected results before starting the procedure.

It also involves less pain other removal treatments, and you'll enjoy a quick recovery time. Many compare the laser treatment to having a rubber band snap against your skin. Dr. Vu may prescribe an anesthetic to relieve discomfort during treatment.
How many laser treatments will I need?
Several factors influence the number of treatments you need to eliminate your tattoo. These factors include:
• Your age
• Your health
• Your skin color
• Age of the tattoo
• Tattoo size and location
• Ink color and quality

Typically, healthy patients require at least eight treatment sessions. Dr. Vu may recommend additional treatments to remove tattoos done over existing tattoos or if you have scars from the tattoo process. Tobacco use can also hinder your tattoo removal results, since it causes poor circulation and a weakened immune system.
What can I expect after the procedure?
Dr. Vu determines the number of treatments you need to remove your tattoos. Following the initial treatment, you may experience some redness and swelling in the treated area. These side effects are common and should only be temporary.

If swelling or irritation continues, contact Dr. Vu's office immediately. The Cutera Enlighten laser treatment doesn't require significant downtime, and you can resume regular activities soon after treatment.