Gynecomastia
Consultations offered at our two convenient locations in Alhambra and Santa Ana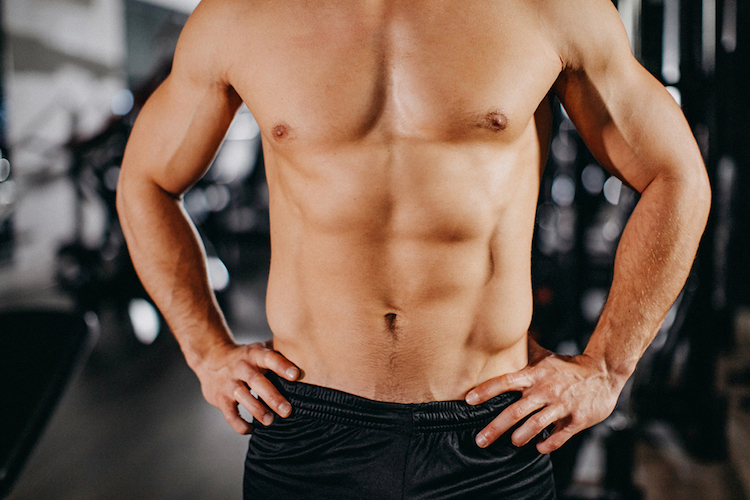 Gynecomastia is the growth of breast tissue in men.
This condition can be the result of lifestyle or medical factors and is an unfortunate source of discomfort and embarrassment in the men it afflicts.  Gynecomastia may be caused by chronic medical conditions like cirrhosis of the liver or hormone imbalances, the use of medications, supplements, or illicit drugs, and, in rare cases, tumors. Discontinuing the use of certain medications and treating an underlying disease can reduce male breast tissue. Medications such as estrogen receptor modulators can also treat this condition. However, in other cases, surgery is required for the best and permanent results. Treatment for gynecomastia should be pursued early and should reflect an informed decision by the patient. (1)
If you or a loved one is struggling with the enlarged, sagging tissue of their breasts, there is something you can do about it.
Male breast reduction (or male reduction mammoplasty) is a cosmetic surgery procedure that removes excess "male breast" tissue by liposuction and/or surgical removal, giving men renewed confidence in their appearance.
Male breast reduction may be an effective solution for you. This is an effective one-time procedure that provides lasting results, allowing you to embrace your masculinity with confidence.
At SkinZone Laser and Cosmetic Surgery, Dr. Hannah Vu is experienced in performing breast procedures of all kinds and can help patients who are suffering from gynecomastia. A male breast reduction is an effective way to reduce the excess breast tissue and give men a flat, masculine chest. To get started on transforming your chest, and get a body that's proud to make you whip off your shirt, call Dr. Vu's office in Alhambra at (626) 329-4555 or her office in Santa Ana at (714) 361-1555 today. 
Before and After Photos
Why Does Gynecomastia Occur in Men?
If you've noticed an increase in the size of your chest, consult a doctor. A physical examination will analyze your height and weight and the condition of your breasts, genitals, liver, lymph nodes, and thyroid. Breast cancer, although rare, can occur in men, and it's important to rule this possibility out. Although gynecomastia typically occurs on both sides of the chest, it can also occur asymmetrically, which can cause additional embarrassment.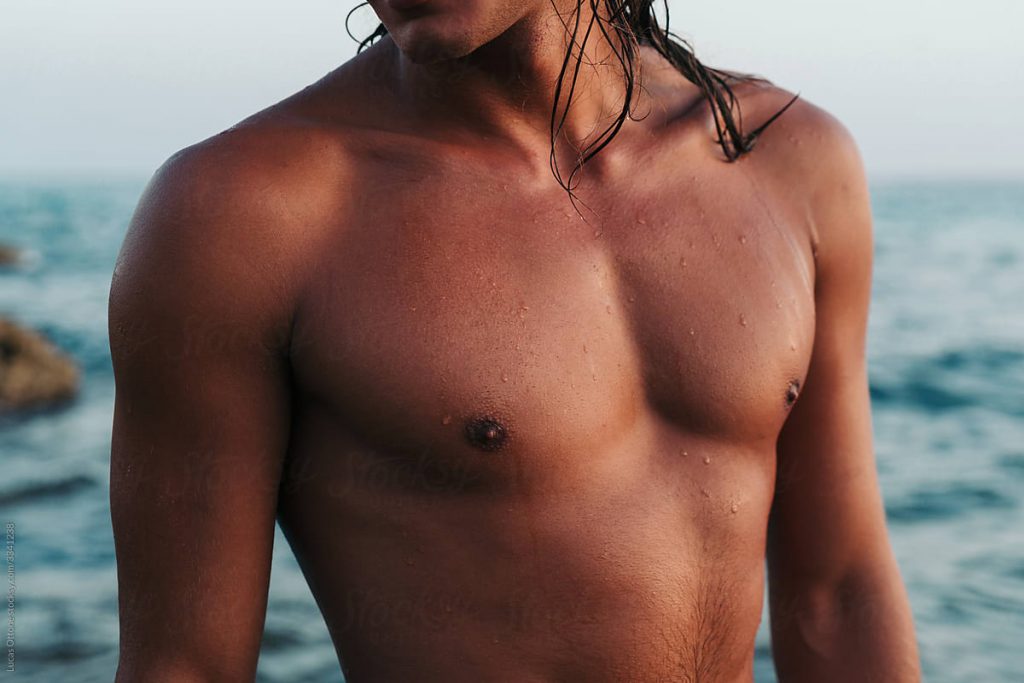 Although the adult male breast contains minimal amounts of adipose and glandular tissue, the increase of estrogen or progesterone levels and inadequate testosterone can cause breasts to grow. Gynecomastia occurs when the estrogen-to-testosterone hormone ratio in men is imbalanced and glandular breast tissue increases. A condition called "pseudo gynecomastia" occurs from the accumulation of fat tissue, rather than glandular tissue, and can result from obesity and linger even after massive weight loss.
As if puberty wasn't already an awkward phase, one-half of adolescent males will experience gynecomastia, typically at 13 to 14 years of age. Puberty affects the hormonal balance and can cause gynecomastia, although it often resolves as the adolescent matures and hormone levels stabilize.
Men may also experience gynecomastia as the result of substance, supplement, or medication use and abuse, as these can also disrupt hormonal levels.
Causes of gynecomastia include:
Steroids
Alcohol abuse
Heroin
Marijuana
Amphetamines
Hair loss medication like Minoxidil and Finasteride
Antacids like Prilosec, Tagamet and Zantac
Gynocomastia can also occur with age, as free testosterone levels decrease. A recent study estimated that approximately 65 percent of men between 50 and 80 years of age experience gynecomastia to some degree. (1)
Benefits
A combination of liposuction and surgical removal of breast tissue can permanently eliminate the appearance of large breasts in men. Removing the tissue in the breast not only reduces the size and sagging of the breasts but also reduces the size of the areola, which can become stretched out from the breast mass. Liposuction techniques allow for minimal scarring and allow Dr. Vu to sculpt a streamlined, masculine contour.
This can improve quality of life and boost a patient's confidence, allowing them to lead an active and healthy lifestyle. 
Candidates for Breast Reduction Surgery
Candidates for male breast reduction are adults in good health who plan to live a lifestyle that will contribute to their long-lasting results.
Your Personal Consultation in Alhambra or Santa Ana
During your personal consultation with Dr. Vu, you'll enjoy a discreet and compassionate environment where you'll feel comfortable asking questions and discussing your treatment options. If you are determined to be a candidate for breast augmentation, Dr. Vu will customize a treatment plan for you. You will be provided a quote and given instructions specific to your case to prepare for your breast reduction procedure.
Ready to learn more about Breast Augmentation in Alhambra or Santa Ana? Call SkinZone at  1-800-983-4983 today to schedule your one-on-one consultation.
Preparation
You'll be given personalized instructions on how to prepare for your breast reduction procedure, so you'll know exactly what to expect during your procedure and recovery.
Abstain from smoking in the weeks leading up to your procedure.
Designate a recovery buddy to drive you home and assist on the first day and night following your breast reduction.
Prepare a comfortable place to recover with essentials within easy reach.
Fill prescriptions and ensure that you have adequate groceries and medication for the first few days of your recovery.
Plan to take several days off of work.
Procedure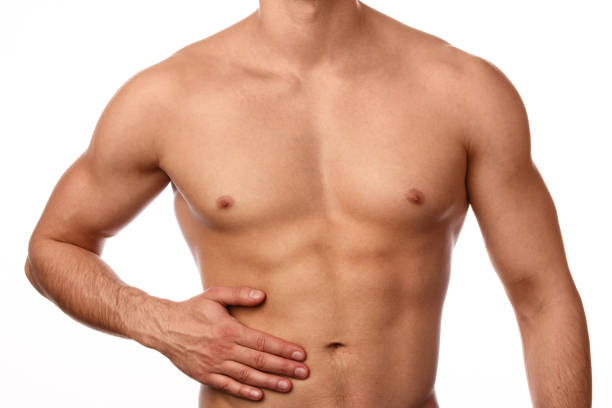 Male Breast Reduction is performed under local anesthesia, so the patient is relaxed but awake and enjoys a shorter recovery period than those who undergo general anesthesia. Depending on your chest and the extent of your gynecomastia, Dr. Vu may choose to employ a combination of liposuction and surgical removal. The breast mass is usually removed via a Webster incision, which encircles the areola and avoids unsightly scarring. Direct surgical excision of glandular and fat tissue may be required, along with body contouring liposculpture. Liposuction is an effective way to ensure that the patient has a flat, even chest and to eliminate an intra-mammary fold, where the breast skin and tissue hags over the chest. (2) During liposuction, Dr. Vu will insert a long narrow cannula under the breast tissue, where she will inject the tumescent fluid, which eases the removal of the excess fat. Dr. Vu may also choose to perform liposuction on the surrounding areas to sculpt a transformative new physique.
Recovery
Everyone heals at a unique pace, and the total recovery time will also depend on the amount of tissue removed and the health of the patient.
The recovery process following liposuction is typically quite tolerable, and you will be given pain medication to manage any discomfort. Patients are often given a compression garment to wear for the first few weeks after surgery; this helps to minimize swelling and offers support to the healing tissues. There will normally be postoperative tumescent fluid drainage for several days, and you'll be instructed on how to care for these drains. While vigorous exercise is typically off-limits for about three weeks, many men return to work or school within several days after their procedures. During your recovery, Dr. Vu will monitor your progress during follow-up appointments until she determines that your recovery is complete.
Results
Once you've fully healed from your breast reduction procedure and all swelling has subsided, you'll be ready to enjoy your new masculine contours poolside or at the beach. Male breast reduction is a long-term solution for gynecomastia. Men who undergo this procedure enjoy less breast fat and tissue, an improved physique, and greater self-confidence.
Complementary Procedures
Since liposuction is integral to a male breast reduction, you may choose additional areas to sculpt during your procedure. SkinZone offers SmartLipo, which uses lasers to melt fat away effectively and precisely. Popular areas to treat include:
Abdomen
Love Handles
Thighs
Liposuction gives you the opportunity to transform your body, and combining procedures can eliminate the need for multiple recovery sessions.
To learn more about the other services offered at SkinZone, follow Dr. Vu's blog.
Cost
Dr. Vu will determine your prescribed treatment plan following a physical examination and a review of your medical history during your personal consultation. She will then be able to give you an accurate cost for gynecomastia surgery. The price of your procedure will depend on the extent of your surgery and if you plan to add any additional procedures. SkinZone offers several financing options that are available for those who qualify. Some insurance plans may cover gynecomastia surgery in rare and serious circumstances involving a demonstrable medical condition. 
FAQ
How can I get rid of man boobs?
Unfortunately, man boobs, or gynecomastia, are caused by a hormone imbalance, so even your best attempts to exercise and tone may not reduce the size of your breasts. While there are medications or lifestyle changes that can stop the growth of breasts in men, surgical intervention is the only guaranteed and permanent way to reduce the size of the chest. 
What kind of medication causes gynecomastia?
Unfortunately, many kinds of prescription medication can cause gynecomastia. Popular medications like Valium, amphetamines, hair loss, and acid reflux medications can throw hormones out of balance and lead to gynecomastia. Consult with your pharmacist to make sure you know the side effects when starting a new prescription.
References
Dickson G. Gynecomastia. American Family Physician. 2012;85(7):716-722. Accessed March 29, 2021. https://www.aafp.org/afp/2012/0401/p716.html
Ratnam BV. A New Classification and Treatment Protocol for Gynecomastia. Aesthetic Surgery Journal. 2009;29(1):26-31. doi:10.1016/j.asj.2008.11.003