Intimate Rejuvenation
Consultations offered at our two convenient locations in Alhambra and Santa Ana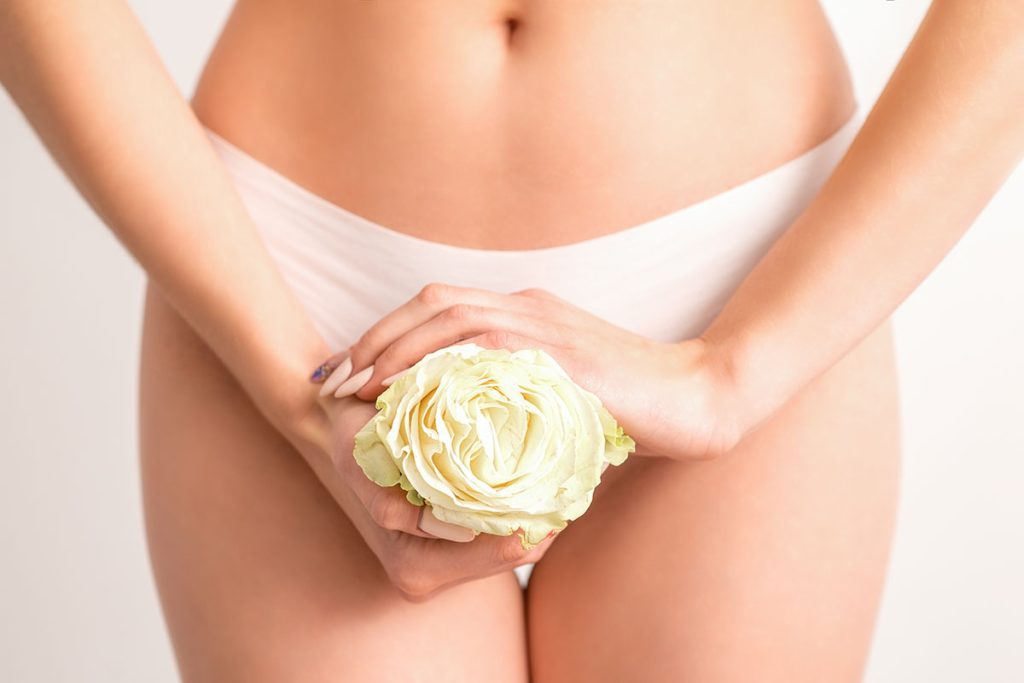 Intimate rejuvenation encompasses a range of procedures and treatments designed to enhance the appearance, function, and overall well-being of intimate areas. At Skinzone Laser & Cosmetic Surgery, we understand the importance of feeling confident and comfortable in your own skin, especially in such personal and sensitive areas.
Led by Dr. Hannah Vu, our comprehensive approach to intimate rejuvenation includes a variety of options tailored to address individual concerns. These options include intimate bleaching, vaginal tightening, episiotomy repair, non-surgical vaginal rejuvenation, vaginal dryness treatment, and postpartum rejuvenation.
Dr. Vu is a highly skilled and experienced plastic surgeon who is dedicated to providing exceptional care and results in the field of intimate rejuvenation. With her expertise, she can help you achieve your desired aesthetic goals while improving your self-confidence and quality of life.
If you are considering intimate rejuvenation, we invite you to schedule a consultation with Dr. Hannah Vu at Skinzone. Take the first step towards rejuvenating your intimate areas and enhancing your overall well-being. Call us at 1-800-983-4983 or complete a short inquiry form to learn more and book your appointment today.
Intimate Bleaching: Brightening Your Body
The intimate areas of our body are an important aspect of our overall aesthetics and confidence. However, factors such as genetics, hormonal changes, aging, and certain medical conditions can cause hyperpigmentation or darkening of the skin in these intimate areas. This can lead to self-consciousness and a desire for a more even and youthful appearance.
Fortunately, advancements in cosmetic dermatology have made it possible to address these concerns with intimate bleaching treatments. At Skinzone we offer a comprehensive range of intimate bleaching procedures to help you achieve the desired results.
Anal Bleaching: For individuals seeking to lighten the skin around the anus, anal bleaching is a safe and effective option. This procedure involves the application of specialized bleaching agents that target the melanin-producing cells in the skin, reducing their activity and promoting a lighter complexion. The treatment is performed with utmost sensitivity and discretion, ensuring your comfort throughout the process.
Groin Bleaching: Darkened skin in the groin area can also be treated with intimate bleaching techniques. Whether caused by friction, hormonal changes, or other factors, our customized approach focuses on restoring a more uniform and attractive appearance to this intimate region. By gently lightening the skin, we can enhance your self-confidence and promote a sense of comfort in your own body.
Under-Arm Bleaching: In addition to anal and groin bleaching, our practice offers a wide range of treatments for general skin lightening and hyperpigmentation. Whether you are seeking to lighten dark spots on your underarms or other areas of the body, our skilled team can customize a treatment plan tailored to your specific needs and desired outcome.
Please note that individual results may vary, and a consultation with Dr. Vu is necessary to determine the most suitable treatment plan for your unique needs. Contact us today to schedule your appointment and take the first step toward achieving the intimate aesthetics you desire.
Vaginal Tightening
Vaginal laxity affects between 24% to 50% of postpartum women. (1) Vaginal tightening is a transformative procedure that aims to restore the tightness, firmness, and hydration of the vaginal canal. Over time, factors such as childbirth, hormonal changes, and the natural aging process can lead to a loss of vaginal elasticity and tone. (2) This can result in various concerns, including reduced sensation during intercourse, urinary incontinence, and decreased self-confidence.
Vaginal rejuvenation encompasses a range of non-surgical and surgical treatments and procedures aimed at restoring the tightness and appearance of the vaginal area. One such method is ThermiVa, a revolutionary treatment that utilizes radiofrequency energy to stimulate collagen production and tighten the tissues.
ThermiVa
ThermiVa is a non-invasive procedure that involves the use of a specialized device that emits controlled radiofrequency energy to the external and internal areas of the vagina. This gentle heat stimulates collagen remodeling, resulting in tighter and more youthful vaginal tissues. The procedure is painless and requires no downtime, allowing patients to resume their daily activities immediately after treatment.
Vaginoplasty
Vaginoplasty is a surgical procedure that encompasses various techniques aimed at enhancing the appearance and function of the vaginal area. Vaginoplasty can be a life-changing procedure for women who are experiencing discomfort or dissatisfaction with the appearance and function of their vaginal area. Whether you have concerns related to childbirth, aging, or simply desire to enhance your intimate aesthetics, Dr. Vu will guide you through the entire process and tailor a treatment plan that aligns with your unique needs and goals.
Benefits of Vaginal Rejuvenation
Restored vaginal tightness
Increased vaginal lubrication
Reduced discomfort during intercourse
Improved urinary control
Restored vaginal elasticity
Increased blood flow to the genital area
Enhanced sensitivity and pleasure
Improved self-esteem and body image
Other Intimate Rejuvenation Techniques
Intimate area rejuvenation and feminine wellness treatments extend beyond vaginal tightening alone. These procedures encompass a variety of treatments aimed at improving the overall appearance, function, and health of the genital area. Postpartum vaginal restoration focuses on addressing the changes that occur after childbirth, such as stretched vaginal muscles and laxity. Genital cosmetic procedures encompass a range of aesthetic enhancements, including labiaplasty and clitoral hood reduction, to improve the appearance and symmetry of the genital area.
Episiotomy Repair
Episiotomy repair is a specialized procedure aimed at addressing the perineal tear that can occur during vaginal birth. This delicate area between the vagina and anus is susceptible to injury during childbirth, and an episiotomy, a surgical incision made to enlarge the vaginal opening, may be necessary to facilitate delivery. (3) However, once the baby is born, it is essential to provide proper care and attention to the episiotomy site to promote optimal healing and prevent complications.
At Skinzone, Dr. Vu offers expert episiotomy repair services. With her extensive knowledge and experience in postpartum care, Dr. Vu understands the importance of comprehensive treatment to address the specific needs of each patient.
What Happens During an Episiotomy Repair Surgery?
During the episiotomy repair procedure, Dr. Vu meticulously sutures the perineal tissue, ensuring precise alignment and minimizing scarring. By utilizing advanced techniques and materials, she aims to promote effective wound healing and restore the natural anatomy of the perineum.
Post-Surgical Care
To facilitate a smooth recovery, it is crucial to follow our post-surgical care instructions diligently. These instructions will include keeping the area clean and dry, avoiding strenuous activities, and taking any prescribed medications as directed by Dr. Vu. By adhering to these guidelines, you can optimize your healing process and minimize the risk of complications.
Results
As your body heals, it undergoes a remarkable process of tissue regeneration. Over time, you can expect the surgical area to heal, resulting in improved tissue quality and texture. This regeneration contributes to enhanced vaginal function and overall well-being.
Personal Consultation in Santa Ana or Alhambra
At Skinzone Laser & Cosmetic Surgery, we understand that intimate rejuvenation is a deeply personal and sensitive topic. Dr. Vu is here to provide you with comprehensive and compassionate care throughout your journey. During your personal consultation, she will take the time to listen to your concerns and goals. She will conduct a thorough medical assessment, ensuring that all factors are considered to determine the most appropriate treatment options for you.
Dr. Vu's expertise in intimate rejuvenation allows her to provide you with expert advice tailored to your unique needs. She will guide you through the available treatment options, explaining their benefits and potential outcomes. Together, you and Dr. Vu will develop a personalized treatment plan that aligns with your desires, taking into account your individual anatomy, lifestyle, and preferences.
We invite you to schedule a personal consultation with us by calling 1-800-983-4983. Our friendly staff members are ready to assist you and answer any questions you may have. For those unable to visit our office, we also offer virtual consultations. Simply follow the prompts to request a virtual consultation, and one of our team members will be in touch.
Corresponding & Complementary Procedures
Mommy Makeover
At Skinzone Laser & Cosmetic Surgery, we understand that being a mother is a beautiful and rewarding experience. However, the physical changes that can occur after pregnancy and childbirth can sometimes leave women feeling self-conscious and unhappy with their bodies. A Mommy Makeover is a customized combination of procedures designed to address the specific post-pregnancy concerns of each patient. For a full list of body contouring procedures, please see our website.
HRT
Hormone Replacement Therapy (HRT) is a comprehensive treatment option for women experiencing menopause symptoms. Menopause is a natural stage in a woman's life that marks the end of menstrual cycles. However, this transition can bring about uncomfortable symptoms, including hot flashes, mood swings, vaginal dryness, and sleep disturbances. Dr. Vu understands the impact these symptoms can have on a woman's quality of life and offers tailored HRT solutions to alleviate these discomforts.
PRP
Platelet-Rich Plasma (PRP) is an innovative and effective treatment for anti-aging, facial rejuvenation, and skin rejuvenation. At Skinzone Laser & Cosmetic Surgery, Dr. Hannah Vu specializes in harnessing the power of PRP to help patients achieve a more youthful and radiant appearance.
How Much is Intimate Rejuvenation in Santa Ana?
The cost of intimate rejuvenation procedures can vary depending on several factors, including the specific treatments chosen and the individualized treatment plan developed for each patient. At Skinzone Laser & Cosmetic Surgery, we understand that pricing is an important consideration when it comes to any cosmetic procedure. We believe in providing our patients with the highest quality care and achieving optimal results, reflected in our pricing structure.
To learn more about intimate rejuvenation procedures or to schedule a consultation with Dr. Hannah Vu, please contact your nearest Skinzone at the relevant number below. Our dedicated team is here to guide you through the process and help you make an informed decision about your aesthetic journey. Read the Skinzone blog for more information about our services.
We serve Los Angeles County and Orange County California, including but not limited to Anaheim, Newport Beach, Irvine, Tustin, Costa Mesa, Huntington Beach, Laguna Beach, Forest Hill, Arcadia, Pasadena, San Marino, San Gabriel, Montebello, Los Angeles, Burbank, Glendale, Hollywood, Beverly Hills, and more.
References
Pather K, Dilgir S, Rane A. The ThermiVa In Genital Hiatus Treatment (TIGHT) Study. Sexual Medicine. 2021;9(6):100427. doi:https://doi.org/10.1016/j.esxm.2021.100427 
Karcher C, Sadick N. Vaginal rejuvenation using energy-based devices. International Journal of Women's Dermatology. 2016;2(3):85-88. doi:https://doi.org/10.1016/j.ijwd.2016.05.003 
Barjon K, Mahdy H. Episiotomy. PubMed. Published 2020. https://www.ncbi.nlm.nih.gov/books/NBK546675/