Non-Surgical Rhinoplasty
Consultations offered at our two convenient locations in Alhambra and Santa Ana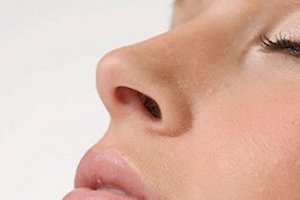 Non-surgical rhinoplasty, also known as a liquid nose job, uses injectable dermal fillers to achieve results similar to traditional rhinoplasty. Often referred to as a "15-minute nose job", this procedure is ideal for people who are looking to improve the shape of their nose but aren't ready for a surgical procedure. Additionally, non-surgical rhinoplasty can give patients an idea of what their desired results will look like without undergoing a traditional rhinoplasty. (1)
As a highly skilled cosmetic surgeon in Santa Ana and Alhambra, Dr. Hannah Vu and the team at SkinZone are ready to help you achieve your aesthetic goals. If you are dissatisfied with the shape or appearance of your nose, contact Skinzone Laser & Cosmetic Surgery today to book a consultation. Call (626) 329-4555 to reach our offices in Alhambra, or (714) 361-1555 to speak with our Santa Ana staff.
About Non-Surgical Rhinoplasty
Non-surgical rhinoplasty uses injectable dermal fillers to add small amounts of strategic volume to the bridge, radix, or tip of the nose. This can reduce the appearance of contour irregularities, prominent dorsal humps, and asymmetry. (2) Many patients that opt for a surgical rhinoplasty are interested in reducing certain aspects of their nose. However, placing small amounts of filler can even out a nasal profile, or create or more refined appearance by accentuating the tip of the nose. The procedure won't completely change the shape of your nose, but it can create a more aesthetically appealing nose. The most common dermal fillers that are used in this procedure are hyaluronic acid based fillers like Juvéderm, and biostimulatory fillers like Sculptra, Bellafill and Radiesse. Juvéderm, particularly Juvéderm Voluma is an excellent way to add small amounts of strategic volume because of the gel's rigid elasticity and high viscosity. (3) For patients that want a longer lasting solution, Sculptra, Bellafill and Radiesse can increase the production of collagen in the injection site, so that tissue is more robust, and the desired profile is achieved. This minimally invasive procedure is a temporary fix, although results have been shown to last anywhere between 6 months and two years, depending on the kind of filler that is used. If patients enjoy their results and want a permanent solution, they can then make a more confident decision when opting for a surgical rhinoplasty. 
Before and After Photos
Why Choose Non-Surgical Rhinoplasty?
It's normal to be intimidated by the thought of surgery, and many patients refrain from their cosmetic goals because of this. Non-surgical rhinoplasty is an alternative for those who don't want surgery, aren't ready for a permanent solution or have busy schedules with little time for recovery. A significant benefit of non-surgical rhinoplasty is that it can achieve similar results to a traditional rhinoplasty in only about 15 – 45 minutes. Because only injections are performed, there are no incisions, sutures, or downtime, and the structure of the nose remains intact. With current and advancing medical techniques, non-surgical rhinoplasty is becoming an increasingly safe and popular choice.(3) In addition, non-surgical rhinoplasty is less costly than a traditional rhinoplasty. 
Is Non-Surgical Rhinoplasty Right for Me?
While non-surgical rhinoplasty can improve the appearance of the nose, it is important that candidates approach the procedure with realistic expectations. Non-surgical rhinoplasty is a temporary cosmetic fix that will not fix breathing issues or dramatically change the shape of your nose. This procedure is best for those who experience one or more of the following:
Subtle asymmetry
Minor nasal cosmetic concerns
Crooked nose
A prominent dorsal hump
Tip projection imbalance
Dorsal concavities, or a "flat" nose
Patients who are looking for cosmetic changes but do not want to undergo a surgical procedure or want to test out a new look without permanent changes should consider non-surgical rhinoplasty. If you've had a surgical rhinoplasty previously, you should wait at least a year to ensure proper healing before undergoing a non-surgical rhinoplasty.(3)
Personal Consultation
Before making a decision about non-surgical rhinoplasty, it is important to address your aesthetic goals with a cosmetic surgeon. Dr. Vu has extensive experience performing surgical and non-surgical rhinoplasty procedures and will be able to recommend the best course of treatment. During a personal consultation, you and Dr. Vu will discuss your nasal cosmetic concerns and desired outcome. If you have a specific look in mind, you can bring a photo for reference. During the appointment, Dr. Vu will carefully review your medical history and current lifestyle to ensure you will be a good candidate for the procedure. Since Dr. Vu takes a personalized approach for each patient, she will examine your facial features and nasal structure to determine a customized treatment plan.
Preparation
Since non-surgical rhinoplasty is a minimally invasive procedure, there are not many preparation steps required before treatment. You should avoid taking anti-inflammatory medications at least two weeks before your appointment as these have been shown to worsen bruising and swelling. On the day of your appointment, it's best to show up with a clean face, with no make-up, as your face will be cleansed before your injections.
Procedure
Needless to say, the procedure for non-surgical rhinoplasty is much simpler than its surgical counterpart. During the procedure, Dr. Vu will have you sit or lay in a comfortable position. Typically, a topical anesthetic is applied to the nose and surrounding area to minimize any discomfort from the needle. Following the anesthetic, the dermal filler will be injected into the areas of the nose that will benefit from treatment. (4) Before the day of your appointment or on your personal consultation, you and Dr. Vu will discuss injection sites and procedural details, so you have an idea of what to expect during treatment. 
Recovery
Since there is no downtime involved in non-surgical rhinoplasty, you can return to normal activity following your procedure. You may notice some bruising and swelling, but side effects should not be severe. Feel free to continue your normal skincare and makeup routine after the appointment. For the best results, you should avoid drinking alcohol and taking aspirin for at least 24 hours after your appointment. It is advised that you do not wear glasses for the following week to ensure the filler stays in its proper position and does not shift. If you experience any discomfort, you can lightly place an ice pack directly in the treatment area.
Results
One of the best perks of non-surgical rhinoplasty is that you can see instant results. After your appointment, you can enjoy your nose's enhanced and rejuvenated appearance for as long as the dermal filler lasts. This is dependent on the brand of filler and your unique treatment plan. Some fillers last six months while others can last up to 18 months. During your personal consultation, Dr. Vu will be able to give you an estimate of how long your fillers will last. If you notice results starting to diminish over time, Dr. Vu can provide a quick touch-up treatment.
Videos
Corresponding & Complimentary Procedures
Skinzone Laser & Cosmetic Surgery offers a wide array of surgical and non-surgical treatments to fulfill all of your cosmetic desires. At our practice, you can find other highly effective filler treatments that rejuvenate the skin, smooth fine lines and wrinkles, plump the lips, and add volume to the skin. In addition, we can treat acne, leg veins, scars, and stretch marks using our unique and powerful laser therapies. 
Botox
Botox is one of the most popular aesthetic treatments. This cosmetic injectable stops aging in its tracks, addressing wrinkles and fine lines in the upper face. Many people don't know that Botox can also function as a therapeutic treatment for those suffering from hyperhidrosis, or excessive sweating. If you have more than one cosmetic concern, your personal consultation will be a great way to learn more about other treatments we offer. In the meantime, check out the SkinZone blog to learn more about the world of aesthetics.
How Much Does Non-Surgical Rhinoplasty Cost in Santa Ana?
Since non-surgical rhinoplasty is a highly customizable procedure, there is not one fixed price for the treatment. During your personal consultation, Dr. Vu can estimate the cost after creating a personalized treatment plan. Varying factors that can influence cost include the type of dermal filler being used and how many injections are necessary to reach your desired outcome. If you decide the add any corresponding treatments, the price of your treatment will change. To learn more about the cost of treatment, schedule your personal consultation at Skinzone Laster & Cosmetic Surgery today. For Santa Ana clinic, call 714-361-1555 or for Alhambra clinic, call 626-329-4555.  We are located close to Newport Beach, Laguna Beach, Tustin, Costa Mesa, Irvine, Rosemead, Los Angeles, Pasadena, Montebello, Glendale, Burbank and more…
FAQ
What if I don't like my results? 
The good news about non-surgical rhinoplasty is that if patients are unhappy with the results of a hyaluronic acid-based filler, they can be easily reversed by dissolving the dermal fillers. 
How long does it take for fillers to settle in place?
It takes up to three weeks for dermal fillers to fully settle. This is why it is recommended that you don't wear glasses or put pressure on your nose during this time. 
Can I wash my face after treatment?
It's best to wait about 6 hours post-treatment before washing your face. The area can be washed with a gentle cleanser or soap and water. 
Will my results look natural?
Yes! The results of non-surgical rhinoplasty look natural and effortless. Since there is no downtime required, you can go home right after their appointment, and chances are no one will notice that you have had injections. 
How long will my results last?
Patients can typically enjoy results anywhere between six months and a couple of years. However, the length of time results will last depends on the type of dermal filler that is used. 
References
Rohrich R, Alleyne B, Novak M, Bellamy J, Chamata E. Nonsurgical Rhinoplasty. Clin Plast Surg. 2022;49(1):191-195. doi:10.1016/j.cps.2021.08.005
Mehta U, Fridirici Z. Advanced Techniques in Nonsurgical Rhinoplasty. Facial Plast Surg Clin North Am. 2019;27(3):355-365. doi:10.1016/j.fsc.2019.04.008
Jasin ME. Nonsurgical rhinoplasty using dermal fillers. Facial Plast Surg Clin North Am. 2013;21(2):241-252. doi:10.1016/j.fsc.2013.02.004
Raggio BS, Asaria J. Filler Rhinoplasty. In: StatPearls. Treasure Island (FL): StatPearls Publishing; May 1, 2022.