Sculptra
Consultations offered at our two convenient locations in Alhambra and Santa Ana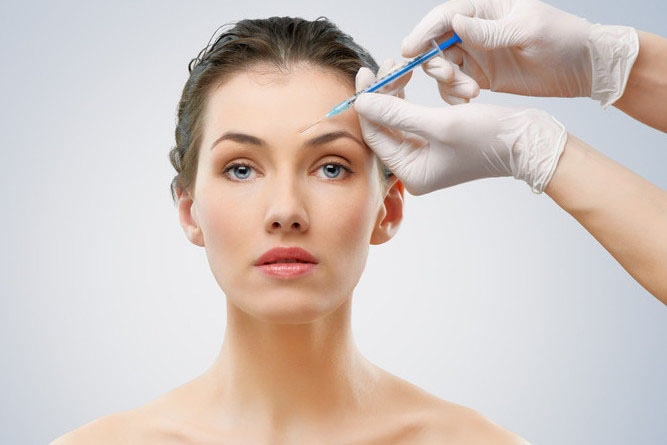 Sculptra is an injectable dermal filler that gradually treats facial volume loss resulting from aging or illness. (1) Different from hyaluronic acid (HA) dermal fillers, Sculptra helps the body to stimulate collagen production for gradual and natural volume. Scultra is formulated with the main ingredient poly-l-lactic acid (PLLA). (1) PLLA is a biodegradable compound that causes surrounding skin cells to produce collagen once injected into the skin. (1) PLLA also acts as scaffolding that supports the new facial structure as volume is restored. (1) The regenerative, self-sustaining properties of Sculptra allow the filler to last for about two years. (1)
Starting in our late 20s and early 30s, many people begin to experience the first signs of aging. We begin to see lines around the mouth or on the forehead. We may experience wrinkles and superficial folds. We may also experience hollowed regions on the face. With time, these effects only become more pronounced. Sculptra provides an effective solution to help reverse some of the more pronounced signs of aging and restore volume loss in the face.
Dr. Hannah Vu and the team of Skinzone Laser and Cosmetic Surgery have helped patients to improve their visage with Sculptra. With regular treatment, we have helped our patients to achieve transformative results with more ageless skin. If you are interested in learning more about Sculptra and if it may be right for you, contact us today at our Alhambra office, at (626) 329-4555, Santa Ana office at (714) 361-1555, or via our online contact form.             
Before and After Photos
About
Sculptra is a safe, effective FDA-approved treatment that first gained a reputation for the successful treatment of facial volume loss in HIV patients. (1) Treatment with Sculptra requires more patience than most dermal fillers–results begin to appear after multiple treatments spaced about six weeks apart. With each injection, the PLLA will trigger low-level inflammation deep within the skin which in turn will activate production of collagen.  Eventually, the body will absorb the PLLA, which still provides dermal support for neocollagenesis. The process takes about six weeks before the skin cells reproduce collagen on their own to plump skin and fill in deep facial lines and wrinkles. 
This process has the power to transform an entire face, hence the nickname "liquid facelift". Sculptra can help to revitalize the cheeks, temples, jawline, chin, eyebrows, smile lines, nasolabial folds, and much more. It can also be used for buttock augmentation or to reduce the appearance of cellulite. Direct benefits to the skin resulting from neocollagenesis include:
Thicker skin
Improved texture
Firmer, tighter skin
Full, plump, supple contours
Sculptra vs. Juvederm vs. Botox: What Is the Difference?
Different from other dermal fillers, Sculptra stimulates collagen production by way of its main ingredient, PLLA. PLLA acts as a "seed" which allows the body to "grow" more collagen fibers on its own. As a result, Sculptra carries semi-permanent, long-term results. Juvederm, on the other hand, provides temporary relief from wrinkles by injecting hyaluronic acid into individual lines along the face. (2) Botox provides a temporary anti-aging solution by relaxing facial muscles with its main ingredient botulinum toxin. Sculptra lasts about twice as long as Juvederm (up to 12 months), and about six times as long as Botox (three to four months). (2)
Sculptra results also occur over about six weeks. Patients who receive Juvederm and/or Botox treatments observe fewer lines and wrinkles after about 14 days. Additionally, Sculptra volumizes areas throughout the face such as the cheeks and temples, and treats deep wrinkles. Sculptra cannot be used to treat the lips or eye area. Juvederm, however, can treat both the eyes and the lips.
Sculptra can be combined with either Juvederm or Botox to improve overall facial contours and treat both superficial and deep wrinkles, folds, and lines for transformative results. 
Benefits
Benefits of Sculptra include:
No downtime
Fewer lines and wrinkles
Minimally invasive procedure
Increased collagen development
Natural-looking results over time
Improves overall texture and tone
Low risk for an allergic reaction
Increased volume for full, plump, supple contours

Candidates
Since Sculptra is hypoallergenic, most patients are a good candidate for injections. You may be a good candidate for Sculptra if: 
You are between 18 and 64.
You have good overall health.
You have healthy expectations about the outcome of the procedure.
You want to minimize deep wrinkles and fill in hollow areas on the face.
You are familiar with the application and results of dermal fillers and are interested in trying a semi-permanent solution.
You will be ineligible for treatment with Sculptra if you are allergic to PLLA, lidocaine, or any of the ingredients in the Sculptra solution. (1)


Personal Consultation
Dr. Vu is a Board-certified plastic surgeon who has helped numerous patients to boost confidence with more ageless skin; fuller facial contours; and fewer wrinkles, lines, and folds. In your consultation, we will discuss the challenges that you currently experience with the inevitable aging process. We will share before and after pictures to give you a realistic idea of what can be achieved with Sculptra injections. We will also address any questions and concerns you may have. If you are ready to take the first step to see if Sculptra is right for you, contact us today. We also invite you to check out our blog for more examples of our work and satisfied patients! 
Preparation
Follow these guidelines as closely as possible for optimal results:
Do not wear makeup the day of treatment.
Take arnica tablets 2 to 3 days before treatment to minimize bruising.
Avoid alcohol 24 hours before treatment to prevent additional bruising.
The day of treatment, wash your face with a gentle cleanser to arrive with a clean skin for treatment.
Inform your doctor if you experience cold sores–you may need to be given antiviral medication prior to treatment.
Avoid possible skin irritants such as glycolic acid, tretinoin (also known as retin-a), benzoyl peroxide, and hydroquinone.
Avoid blood-thinning medications, vitamins, and supplements to prevent increased bruising and swelling–this includes aspirin, Motrin, Ibuprofen, NSAIDS, ginkgo biloba, cod liver oil, Vitamin A, and Vitamin E.
Procedure
Sculptra injections take about 15 to 30 minutes. The step by step procedure is as follows:
Dr. Vu or your injector will mark treatment areas and clean the face with antiseptic.
A topical anesthetic may also be applied, though Sculptra solution usually includes lidocaine, a numbing agent that increases comfort and reduces pain during treatment.
Sculptra will be injected into selected treatment sites on the face.
Your injector will massage the treatment sites to evenly distribute Sculptra solution, and prevent lumps from forming underneath the skin.
You will be released immediately after treatment and may resume daily activities.
Recovery
Most patients can return to their normal daily activities immediately after treatment. Bruising and swelling are common side effects you may experience–they will subside after a few days. Additional things to remember as you recover include:
Avoid heavy exercise 24 hours after treatment.
Take arnica tablets as needed to reduce bruising.
Avoid such exposure such as direct light or tanning until swelling subsides.
Massage the face five times per day, for five minutes each day, for five days.
Avoid laser and skin tightening treatments for two to three weeks after treatment.
Use an ice pack the first day after your procedure by applying it to the swollen area a few minutes at a time.
Take over-the-counter medication such as Tylenol or Acetaminophen if you continue to experience discomfort.
Results
Full effects of the procedure will take shape after about six weeks. At this time, final results will kick in with a fuller facial contour and fewer deep wrinkles and lines. Results last about two years. Because results appear gradually, the improvement will go unnoticed, which many of our patients appreciate. For full results, Sculptra treatment requires about three or four subsequent visits spaced about four to six weeks apart.
Results are semi-permanent, but cannot be reversed. Hyaluronic acid (HA) fillers can be reversed with the enzyme hyaluronidase. However, no reversal enzyme exists for Sculptra fillers. Therefore we recommend starting with temporary dermal filler injections to gain experience with how these fillers work with your face. Because Sculptra lasts significantly longer than a temporary filler, you should be certain before making a decision to undergo this treatment.
Cost
Sculptra injections cost more than hyaluronic acid fillers, however, the treatment lasts about twice as long. Additional factors that impact cost include the number of Sculptra vials required to achieve the desired result; the number of treatment sessions. Sculptra is considered an elective cosmetic procedure so it will not be covered by a medical insurance provider.
References
Sickles CK, Nassereddin A, Gross GP. Poly-L-Lactic Acid. [Updated 2022 Jun 7]. In: StatPearls [Internet]. Treasure Island (FL): StatPearls Publishing; 2022 Jan-. Available from: https://www.ncbi.nlm.nih.gov/books/NBK507871/.
Bogdan Allemann I, Baumann L. Hyaluronic acid gel (Juvéderm) preparations in the treatment of facial wrinkles and folds. Clin Interv Aging. 2008;3(4):629-634. doi:10.2147/cia.s3118