Face & Neck Lift
Consultations offered at our two convenient locations in Alhambra and Santa Ana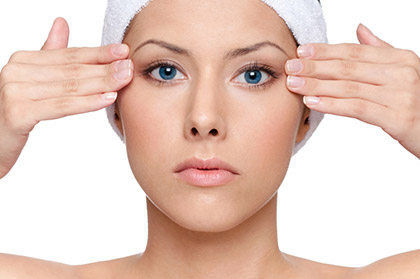 A surgical lift for the face and neck is designed to tighten and lift skin that has lost its elasticity due to aging, genetics, or environmental stressors. Youthful skin can "bounce" back, but these tissues lose their strength with time, and skin on the face and neck descends. One of the most devastating aspects of aging is looking in the mirror and seeing someone you don't recognize. Although the appearance of sagging skin is a gradual process, the results can catch us off guard and seem like it happened overnight! When the skin begins to sag over the jowls, cheeks, and neck, our natural inclination is to take our hands and stretch them back into their original positions. Guess what? We can do that surgically, and it stays in place!
Dr. Hannah Vu, MD of SkinZone Laser & Cosmetic Surgery, advocates for natural-looking results and applies her artistic surgical skills to achieve beautiful facial contours. Dr. Vu is a leader in her field because she blends the latest surgical techniques and methods with patient comfort, shortened recovery times, and excellent results.
Patients in Alhambra, Santa Ana, and the greater Los Angeles, California area and Orange County, California can learn more about Dr. Vu's artistry and approach to lifting the skin of the face and neck by calling us at 1-800-983-4983 to schedule an appointment. Our knowledgeable staff is ready to help you achieve your aesthetic goals!
Dr. Vu loves sharing her knowledge and experience, so keep up with her blog to learn about the latest innovations she offers her patients.
Before & After Photos
Before and After Photos
More About Facelifts
Facelifts remain one of the most popular cosmetic surgeries in the world. Their prevalence in the operating room increased by a whopping 75% from 2000 to 2020. [1] Facelifts are not designed to stop the aging process or change the fundamental elements of your appearance, but a facelift can:
Improve "sagginess" in the mid-face
Fill in the deep creases below the eyes
Address "marionette" lines, the deep creases from your nose to the corner of your mouth
Erase the dreaded jowls
Unlike many facelift procedures that end up making you look like a different person, Dr. Vu's approach restores your natural, youthful appearance. Because your facelift is done by a highly skilled surgeon who only uses the most advanced techniques, your results will never look "done," pulled, or stretched. Get used to your friends and family asking what you are doing differently to look so young and well-rested!
About the Neck Lift
A neck lift is designed to give you a more toned and youthful appearance. The neck is one of the first areas of the body to show age, and when these signs of aging appear before expected, it can be psychologically devastating. A neck lift addresses banding, loose skin, and excess fat or a double chin, all signs of aging skin. Are you tired of wearing scarves year-round to hide your neck? Look to the surgical "necks-pertise" of Dr. Vu.
There are many methods used to achieve stunning results with a neck lift; these include:
Liposuction – Removes stubborn pockets of fat in the neck and chin.
Cervicoplasty – Removes excess skin.
Platysmaplasty – Reduces the appearance of banding on the neck.
The Combined Effect
By combining both a facelift and neck lift, the areas will receive rejuvenation simultaneously, so your whole appearance is refreshed at once. Then, as time passes, the features of your face and neck will stay aligned in the aging process. The best part: the results of your procedures will last for ten years or more!
Benefits of Surgical Lifting
While many procedures promise results that address aging skin, there is nothing so practical as the dramatic, natural-looking outcome of a surgical lift. By excising loose skin, removing fat pads, and addressing the underlying structure, surgical results achieve what those less-invasive treatments can only partially and temporarily realize.
Facelift Methods Explained
There are many different approaches to a facelift. Today, the facelift techniques focus less on pulling the skin and more on lifting the underlying elements and then re-draping the skin for a natural-looking effect.
The Full Facelift
With a full or complete facelift, a larger area of muscle and tissue is lifted or repositioned.
A full facelift entails the following:
Beginning at the temples, incisions are carefully continued in front of the ears, wrapping around the earlobes to end in the hairline behind the ears.
Then, using sutures, the underlying structures (connective tissue and muscles) are lifted; if necessary, fat is repositioned to shift the volume upward.
Finally, the skin is excised and redraped, creating youthful contours.
Mid-Face Lift
For patients with concerns focused on the midface – namely, sagging skin and fat pads in the cheeks – a mid-face lift is an optimal approach. By discreetly hiding incision scars, Dr. Vu can reduce puffiness under the eyes, correct nasolabial folds, and improve definition in the cheeks.[2]
Limited-Incision Lift
The limited-incision facelift offers an ideal solution for patients with less sagging or those seeking a follow-up facelift after a decade or more. The results refresh the skin around the eyes and mouth, nasolabial folds, and deep creases on the face and only require a short incision at the temple and around the ear; the scarring is easily hidden.
Neck Lift Techniques Explained
A beautiful neck might inspire one to fall in love, so idealized is this area of the body. But unfortunately, this might contribute to the frustration women feel when they notice premature aging, as is so often the case with the neck's delicate skin. To address this area and reverse additional concerns her patients bring in, Dr. Vu uses a multi-faceted approach to reverse:
Jowls and a "double chin."
Platysmal banding
Hollowed contours
Lax and sagging skin
Liposuction works well to remove the submental fat under the chin and jowling around the mandible. During liposuction, a hollow tool called a cannula draws a localized area of fat out; this fat can be used to achieve fat grafting if Dr. Vu finds the inclusion of this ancillary procedure will benefit your facelift.
Cervicoplasty achieves additional contouring benefits on the neck. First, an incision is made below the chin in the central submental triangle to excise and lift the skin. The results are a dramatically contoured chin with minimal yet beneficial change to the jowls. [3]
A platysmaplasty is a procedure where an incision is made that allows the surgeon to address loose, saggy skin, platysmal bands (cords), and excess fat in the neck, delightfully referred to as "turkey neck." [4]
A facelift procedure takes about four hours to complete, while a neck lift will take between one and three hours, depending on the results you wish to achieve. Both surgeries are performed under local anesthesia. Dr. Vu will customize the procedure to the specifics of your case and discuss the details and the amount of time it will take during your consultation.
Candidates for Surgery
The ideal candidates for facelift or neck lift are healthy non-smokers with substantial sagging of the face, a general loss of volume, and jowling and banding of the neck. It is essential to temporarily cease smoking while preparing for and recovering from your procedure to increase your body's ability to heal. Candidates should have a realistic idea of what the outcomes of their surgery will be, which can be achieved by talking with Dr. Vu and her staff during your consultation.
Virtual Consultation
Dr. Vu offers virtual consultations to her patients in Alhambra and Santa Ana. The virtual consultation process is easy:
Submit information about the procedure or procedures you are interested in, and be sure to let us know your surgical goals.
You can submit photographs, a vital component to help you decide.
After the doctor reviews the information and your pictures, you will be contacted by our office to schedule an in-person appointment.
We are always happy to answer your questions should you need to speak with someone. Call 1-800-983-4983 to reach our Alhambra or Santa Ana office.
Preparation
Patients under Dr. Vu's care must follow specific protocols leading to surgery. Including the following guidelines, you may be asked to adjust or discontinue taking certain medications:
Leading up to your surgery, you should fill any prescription medicines that will aid pain management during recovery.
Stop smoking for at least 4-6 weeks pre- and post-surgery
Do not take anti-inflammatory drugs or herbal supplements.
Arrange for a friend or family member to drive you to and from surgery.
Create a calming environment at home designated as your recovery space.
You may wish to have someone stay with you longer, but it is crucial to have someone help you the first night you are home after surgery. You will receive a complete list of pre-operative procedures during your consultation.
Recovery
It is vital that you give yourself ample time to heal after surgery. Patients should prepare to sleep only on their back with the head elevated for at least the first week; sleeping on the face could dramatically alter the results of your procedure. For the first few weeks after your surgery, you should avoid any exercise that will raise your heart rate. Additionally, plan to take at least three weeks off from work. Dr. Vu will inform you when it is safe to resume your regular activities.
As you heal, the bruising and swelling will subside, giving way to itching as your incisions heal. Before you know it, your youthful reflection will greet you again when you look in the mirror!
What is the Cost of Face and Neck Lift in Alhambra, Santa Ana or greater Los Angeles area?
The cost of your procedure, or procedures, will be better understood after your consultation. In addition, Dr. Vu will know what you hope to achieve and which techniques will help get you to your desired results. So, don't wait! Take control of your aesthetic future with a face and neck lift with Dr. Vu. Give us a call at 1-800-983-4983 to get the ball rolling. We serve the Southern California SoCal areas including but not limited to Los Angeles, Beverly Hills, Hollywood, Glendale, Pasadena, San Gabriel, San Marino, Arcadia, Burbank, West Covina, Whittier, Anaheim, Long Beach, Huntington Beach, Irvine, Newport Beach, Laguna Beach, Lake Forest, Mission Viejo and more….
References
American Society of Plastic Surgeons. 2020 Plastic Surgery Statistics Report.; 2020. https://www.plasticsurgery.org/documents/News/Statistics/2020/plastic-surgery-statistics-report-2020.pdf
Le Louarn C. Concentric Malar Lift in the Management of Lower Eyelid Rejuvenation or Retraction: A Clinical Retrospective Study on 342 Cases, 13 Years After the First Publication. Aesthetic Plastic Surgery. 2018;42(3):725-742. doi:10.1007/s00266-018-1079-0
Evans TW, Stepanyan M. Isolated Cervicoplasty. The American Journal of Cosmetic Surgery. 2002;19(2). https://stepanyansurgical.com/pdfs/Isolated-Cervicoplasty1.pdf
Alexander L, Patel BC. Platysmaplasty Facelift. PubMed. Published 2021. https://www.ncbi.nlm.nih.gov/books/NBK563291/