Juvéderm Volux
Consultations offered at our two convenient locations in Alhambra and Santa Ana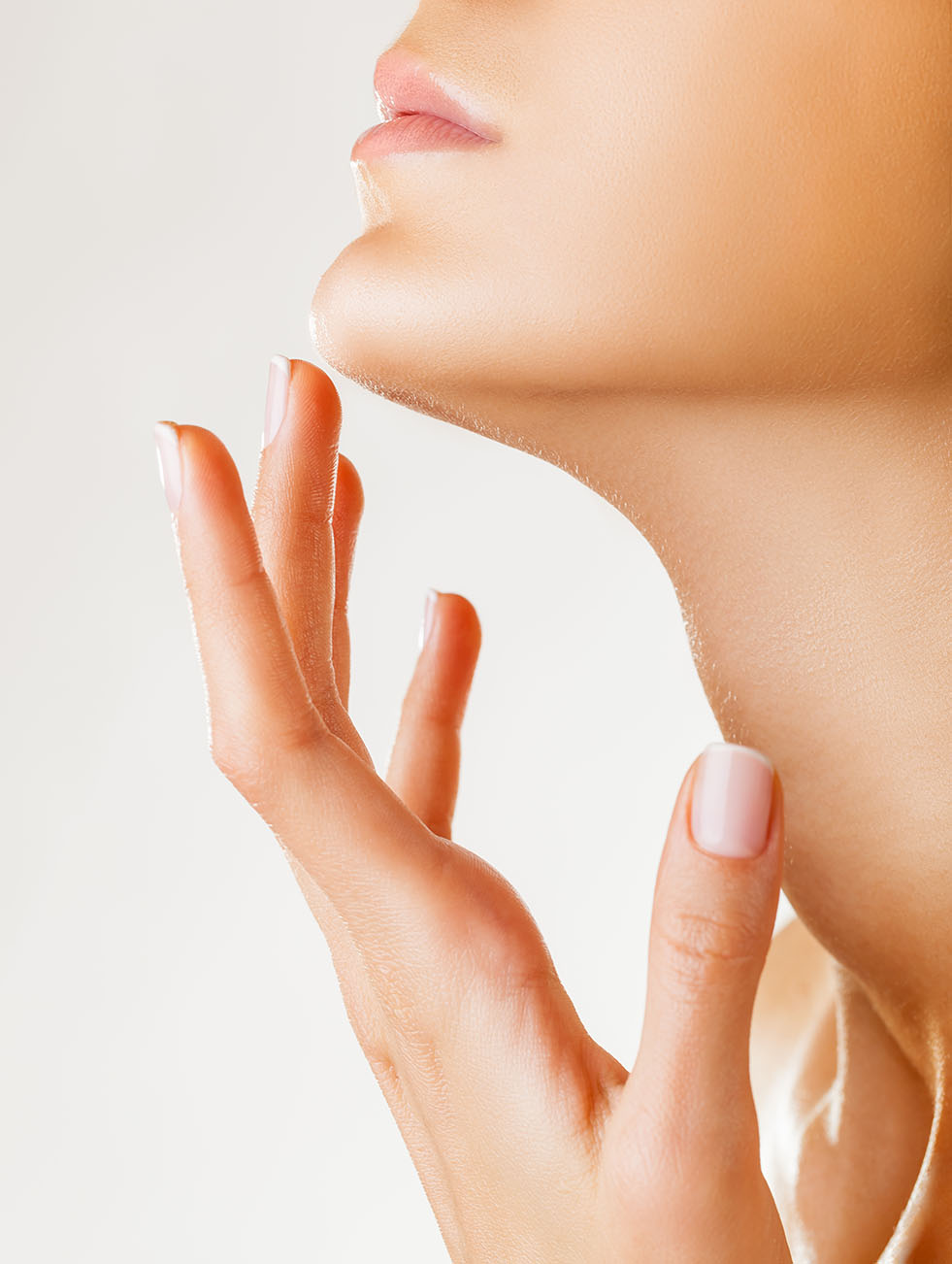 Juvéderm Volux is a hyaluronic acid dermal filler designed for jawline enhancement. Volux helps to treat some of the effects of aging in the lower face–such as reducing the appearance of jowls and adding volume and definition to the jawline. Volux was approved by the Food and Drug Administration in 2022, and is the newest addition to the Juvéderm collection of dermal fillers.
Dr. Hannah Vu, MD and the team of Skinzone Laser and Cosmetic Surgery meld artistry with expert skill to inspire stunning results. She and her team of expert injectors have a gentle, empathetic approach that lets patients look like themselves, only better, with both surgical and nonsurgical treatments such as Volux. If you are interested in learning more about Volux and how it may be able to help restore key areas of the lower face, contact us today at our Alhambra office by calling (626) 329-4555, or our Santa Ana office by calling (714) 361-1555. You may also send us a message through our online contact form, and we'll respond promptly! 
Before and After Photos
About Juvéderm Volux
As we age, the loss of collagen, elastin, thinning of dermal tissue, and changes to our bone density can cause sagging and loss of definition in the jawline. Volux is a first-of-its-kind filler designed for the jawline to restore volume loss, reduce drooping, and contour the lower face for a more chiseled look. Volux can also aid in:
Reversing effects of aging as part of a "liquid facelift"
Achieve a more masculine facial structure
Treat contour irregularities
The jawline helps to define our overall face shape and balances facial features. Because it plays such a key role in our appearance, even subtle changes can affect how we look.
About Hyaluronic Acid
There are several different Juvéderm formulas available today, and each is specifically designed to address certain areas of the face. What they all have in common is that their key ingredient is hyaluronic acid. Hyaluronic acid is a naturally-occurring compound present in our skin and connective tissues. It is highly hydrophilic, meaning it attracts water. A single hyaluronic acid molecule can bind to up to 1,000 times its volume with the water molecules present in our skin, thus providing a major boost of moisture and volume. As we age, the body produces less hyaluronic acid, leaving us prone to wrinkle formation, loss of elasticity, and dermal thinning.
Juvéderm is formulated using a biodegradable and biocompatible synthetic form of hyaluronic acid (HA).(1) Because it's so similar to our own naturally-occuring HA, Juvéderm has an extremely low risk of allergic reactions, making it a safe and popular choice. This synthetic version of HA is engineered to be longer-lasting than the HA our bodies produce, so results last. It's also designed to have specific consistencies. Thinner Juvéderm formulas like Juvéderm Volbella are perfect for thin lines, like those around the mouth. Firmer, more cohesive formulas Voluma can add shape to lips and cheeks. Juvéderm Volux is the firmest most concentrated version of HA yet, making it perfect for adding chiseled definition to the jawline. Another benefit of this synthetic form of hyaluronic acid is that it can also be broken down by the enzyme hyaluronidase to correct placement; or to reverse effects if a patient is displeased with results.(2) 
Benefits
By enhancing the edges of the jawline, Volux helps to bring harmony to a patient's overall facial appearance. Specific benefits of this treatment include:
Smoother skin
FDA-approved formula
Less pronounced jowls
No recovery downtime
Results last 12 to 18 months
Improves overall facial balance
Minimally invasive, nonsurgical procedure
Candidates
Volux carries many of the same considerations as other Juvéderm formulations. You should have realistic expectations for results; be in good health; and desire an effective nonsurgical and minimally invasive solution for improved definition.
Generally, individuals who are allergic to the ingredients used to make the Volux dermal filler gel will be ineligible for treatment.(1) Additionally, candidates with infection, rash, or other active skin conditions near the treatment site will need to reschedule their treatment. 
Personal Consultation
Dr. Vu provides customized cosmetic procedures that create stunning results and boost patients' confidence. Volux specifically gives the jawline chiseled appeal, and helps to restore balance and proportion in the face. In an initial consultation, we will discuss your reasons for seeking Volux injections, and if we may be able to assist in your aesthetic goals. If you are interested in learning more, set up an appointment with us today. You can reach us in Alhambra by calling (626) 329-4555. Our Santa Ana location can be reached by calling (714) 361-1555. You may also message us through our online contact form. Our blog also carries up-to-date news on the on-goings of our practice, and plenty of educational material on our surgical and nonsurgical procedures so check it out!  We serve Orange County, CA area including Newport Beach, Huntingon Beach, Laguna Beach, Anaheim, Irvine, Tustin, Costa Mesa and more.
Preparation
Preparation is an important component of any treatment, whether surgical or nonsurgical. You deserve to experience optimal results from your procedure. There's not much to do before a Juvéderm injection session, but we recommend following the preparation guidelines outlined here:
Avoid alcohol 24 hours before and after injections
Avoid hair removal treatments and other skin care products that can cause irritation
Discuss your medical history including allergies, skin conditions during your consultation
Avoid certain medications and supplements that can increase the risk of bruising
Procedure
Volux injections take about 15 to 20 minutes, and injections are relatively painless. First, your trained injector will numb the area around your jawline with a topical anesthetic. Volux is also formulated with lidocaine for increased comfort during the short procedure. Volux is then injected into target areas along the jawline. The number of injections will vary based on each patient's unique requirements for treatment and goals.
Recovery
After treatment, you may gently apply an ice pack to reduce any discomfort, swelling, or bruising post-procedure, but this generally subsides in a day or two. A few key tips to practice as you recover are:
Avoid exercise 24 hours post-procedure
Avoid placing pressure on the treated area
Remain upright for the first 3 to 4 hours after the injection
Avoid facial treatments and chemical peels after treatment
Results
Although you may notice an immediate difference after your injections, your final results will be visible two to three weeks after treatment. Results last for 12 to 18 months, and patients that want to extend the results of their treatment can return to our offices for a touch-up!
Costs
Unlike Botox, and other injectables that are priced by the unit, Volux is sold by the syringe. Therefore the cost of your Volux treatment will depend on the number of syringes required to achieve your desired results. We will be happy to provide an approximate quote. Schedule a consultation today!
FAQ
What is the difference between Volux and Voluma?
Each is a product in the Juvéderm collection and works similarly. Until the approval of Volux by the FDA in 2022, Voluma was lauded as the firmest dermal filler of the Juvéderm family. Doctors use Voluma as a chin and jawline filler for effective results. Today, however, Volux offers an even stronger option that provides firmer results due to its bone-like structure. Therefore if you seek a filler for the lower face in the chin and jawline, Volux is now the ideal option due to its pliable, thick, and durable consistency.
Are dermal filler treatments safe?
Juvéderm fillers are made from a synthetic version of hyaluronic acid that mimics the natural version made by the body. They provide nonsurgical facial rejuvenation and aid in temporarily reducing the effects of aging such as wrinkles and volume loss. Not only that, but our fillers are FDA approved. More than 3.4 million soft tissue filler procedures were completed in 2020, with many people adopting the treatment due to its safety and efficacy.
References
Gold MH. Use of hyaluronic acid fillers for the treatment of the aging face. Clin Interv Aging. 2007;2(3):369-76. doi: 10.2147/cia.s1244. 
Lafaille P, Benedetto A. Fillers: contraindications, side effects and precautions. J Cutan Aesthet Surg. 2010 Jan;3(1):16-9. doi: 10.4103/0974-2077.63222.