Rhinoplasty
Consultations offered at our two convenient locations in Alhambra and Santa Ana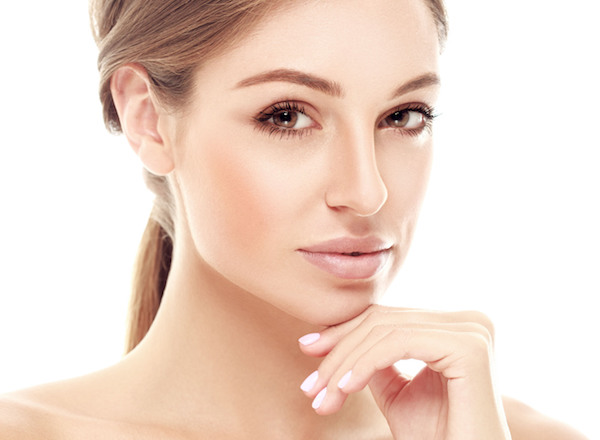 Rhinoplasty, or a "nose job," is a surgical refinement of the appearance and function of the nose. Unfortunately, our self-esteem can be significantly impacted by an unflattering nose shape or size, and it's a feature that's nearly impossible to hide. For other patients, uneven nasal contours may make breathing difficult. Interested patients in Southern California turn to Dr. Hannah Vu to create effective, long-lasting results. Using the most advanced technology and surgical techniques, she and her team at Skinzone Laser and Cosmetic Surgery offer patients an effective way to achieve the nose they've always wanted. Patients can choose to make corrections with rhinoplasty, a highly effective surgical treatment that adjusts the nasal passageways, and underlying bone and cartilage. Similarly, patients can correct minor concerns with a non-surgical rhinoplasty using dermal fillers.
Patients ready to breathe better and enjoy an improved nasal appearance should call our office to consult with Dr. Vu. Call us at: 
Before and After Photos
About Rhinoplasty
The nose is shaped by a complex network of cartilage, bone, and soft tissue. It is a defining characteristic of our appearance and performs important respiratory functions. However, it has a delicate structure and genetics or injury can affect its vital functions. A rhinoplasty treatment delivers long-term improvement and can surgically revise the nasal width, length, profile, and tip. [1] A rhinoplasty allows Dr. Vu to reshape and reposition the bone, cartilage, and other soft tissues so that patients can achieve their ideal nasal appearance.
Non-surgical rhinoplasties, on the other hand, offer patients a less invasive way to correct the nose. This treatment involves injections or dermal fillers such as Juvederm or Radiesse to make minor adjustments to the contours, and shape. It can be used to decrease the appearance of unwanted bumps or contour irregularities. When injected, the unique properties of the dermal filler created added support to the skin's scaffolding, also known as the extracellular matrix (ECM). With no downtime and minimal discomfort, it's a great way for patients to enjoy temporary improvements quickly.
Benefits
A rhinoplasty reimagines the nasal shape to bring patients a newfound sense of confidence and restore proper respiratory function. At your consultation, Dr. Vu will explain all the benefits you stand to gain with this procedure, including:
A well-sculpted nasal structure that compliments your other facial features
Permanent revisions to nasal size, projection, and symmetry
Corrects a deviated septum by unobstructing nasal passageways for better breathing
Removes dorsal hump on nasal bridge
Refines a bulbous tip or narrows the nostrils
Improves self-confidence and esteem
Candidates
Patients that visit Dr. Vu's Alhambra or Santa Ana offices will have the opportunity to learn more about the nose and familiarize themselves with the requirements and benefits of surgical or non-surgical rhinoplasty. She will discuss how patients should:
Be concerned about the look or function of their nose
Be healthy men and women over 15 years old
Have a desire to improve breathing or correct an aesthetic deformity
Not experiencing chronic illnesses or certain medical conditions
Be prepared to commit to a responsible recovery and have realistic expectations
Personal Consultation with Dr. Vu
Hannah Vu, MD has vast medical knowledge, experience, and surgical dexterity which has allowed her to provide excellent results for her patients. Inside our surgical offices is a dedicated staff who delivers high-quality care and produces exceptional patient outcomes.
Interested patients will meet with Dr. Vu and her team to discuss their unique situation and learn how rhinoplasty or a non-surgical alternative will help address their unique aesthetic concerns. After reviewing your medical history, Dr. Vu will inspect your nasal anatomy and give you the opportunity to explain any cosmetic and/or functional troubles. This allows Dr. Vu to devise a personalized treatment plan which she will explain to you at the end of the appointment.
To start the process, call (626) 329-4555 (Alhambra) or (714) 361-1555 (Santa Ana) to schedule a consultation. 
Preparation
We'll help you plan for your surgery in the weeks leading up to your appointment to alleviate any pre-treatment stress. Dr. Vu will ask you to:
Stop smoking: Take a break from the bad habit to ensure the healthy blood flow needed for a speedy recovery.
Pick up medications: Head to the pharmacy and get the medication Dr. Vu has prescribed for your recovery.
Arrange to have someone pick you up: Designate a loved one or family member to drive you home once your surgery is complete. The anesthesia will make you unable to drive.
Shop for soft foods: Chewing may be uncomfortable immediately after your surgery, so make sure you have nutritious options that are easy to eat.
Fast as directed: Follow instructions on when to stop eating or drinking before your surgical appointment.
Procedure
We'll start pre-treatment formalities by administering local or general anesthesia to ensure that you are comfortable. The kind of anesthesia used for your treatment will depend on the type of revisions you wish to make and your personal preferences. Dr. Vu will then carry out your rhinoplasty according to your treatment plan.
Incision Technique
Patients will have either a closed rhinoplasty (minor to moderate adjustments) or an open rhinoplasty (extensive readjustments). [1]
Closed rhinoplasty makes a concealed incision on the soft tissue from inside the nostrils. This will allow her to reposition the pieces of cartilage that give the nose its structure. Conversely, open rhinoplasty patients will require an inverted-V incision made at the base of the nose or columella.[1][2] She will then lift the soft tissues, exposing the underlying cartilage and bone. This allows her better visibility, and the ability to make the proper adjustments to the exposed nasal structures.
Revisions to the Nose
In either method, Dr. Vu will make appropriate revisions to the nasal bone and cartilage structures. This may entail removing, reshaping, or adding cartilage via tissue grafting. [1] She can also reduce the size and angle of the nasal bones to eliminate an unwanted dorsal hump and give patients a smoother and more refined nasal profile.[1]
Correction of a Deviated Septum
Septoplasty improves respiratory problems caused by a deviated septum. This piece of cartilage runs down the center of the nose, separating the left and right nasal cavities. An overly large or misaligned septum can block airways, so this corrective procedure can improve airflow for more comfortable breathing. Once incisions are made, the size and positioning of the septal cartilage is adjusted.
Once the necessary adjustments are complete, Dr. Vu will place sutures to create the necessary angles and hold the adjusted structures of the nose in place. Your nose will be dressed with bandages and a splint will be placed over the nose to protect your results. [3]
Recovery
Use your recovery to take it easy and get plenty of rest. Swelling, discoloration, and bruising are normal parts of the healing process, and discomfort is usually most pronounced during the first few days of your recovery. Taking the prescribed pain medication and keeping your head elevated will help improve swelling and discomfort.
One week after your surgery, we'll bring you back for a follow-up appointment to remove the splint and monitor your progress. During your recovery, be extra vigilant about avoiding pressure on the nose, blowing your nose, and stick to soft foods that don't require extensive chewing. You can resume light activities in two weeks, and in 4-6 weeks, you'll be able to return to more strenuous activities, like workouts.
Results
After surgery, men and women patients will see the long-term benefits of a functional, aesthetically pleasing nose. Optimal results will appear once your after-surgery symptoms disappear in about four months. However, the nasal tip can take up to a year for any residual swelling to diminish, and your final results to become visible.
Corresponding & Complementary Procedures
Skinzone Laser and Cosmetic Surgery is pleased to offer patients multiple anti-aging treatments. At your consultation, we may discuss other treatments, including:
Non-Surgical Rhinoplasty
Patients opting for a non-surgical rhinoplasty can create subtle improvements with no incisions or downtime. Instead, Dr. Vu will refine the nasal appearance with dermal fillers such as Radiesse, Restylane, or Juvéderm. After topical anesthesia is applied, Dr. Vu will inject the treatment into key points in the nose to create more even contours.
Facelift
Patients looking for an long-lasting way to reverse the signs of aging may benefit from a facelift. This popular surgery can create a more youthful appearance by adjusting the underlying facial tissues, and eliminate sagging, lax skin. Liposuction can be added to create better jawline definition and improve the appearance of a double chin.
Necklift
Often, patients will include a facelift with a neck lift for comprehensive changes to their appearance. A neck lift surgically corrects compromised neck muscles that lead to the appearance of sinewy banding, and removes excess fat and skin for a smoother, more youthful appearance for the neck. 
Cost of a Rhinoplasty in Southern California
Rhinoplasty is a tailored treatment that provides a unique resolution for each patient. Therefore, the cost of a rhinoplasty varies slightly from patient to patient. However, your insurance may cover the final costs in certain medical circumstances, such as for a septoplasty to improve respiratory function. We'll address these concerns and direct you to helpful financing choices and specials.
FAQ
Do rhinoplasty and non-surgical treatment do the same thing?
Both treatments provided complimentary contours to the nose but do so in different ways. Patients choosing a surgical treatment often benefit from long-term enhancement to the nose. By comparison, non-surgical treatments with dermal fillers are minimally invasive treatments that also optimize the shape of the nose. It is a great alternative for those not yet ready for surgery or who wish to make minor adjustments.
References
Rohrich, R. J., & Ahmad, J. (2011). Rhinoplasty. Plastic and Reconstructive Surgery, 128(2), 49e73e. https://doi.org/10.1097/prs.0b013e31821e7191
Raggio, B. S., & Asaria, J. (2021). Open Rhinoplasty. PubMed; StatPearls Publishing. https://www.ncbi.nlm.nih.gov/books/NBK546628/
Rudy, S. F., & Most, S. P. (2017). Rhinoplasty. JAMA, 318(14), 1406–1406. https://doi.org/10.1001/jama.2017.13267