Hair Loss
Consultations offered at our two convenient locations in Alhambra and Santa Ana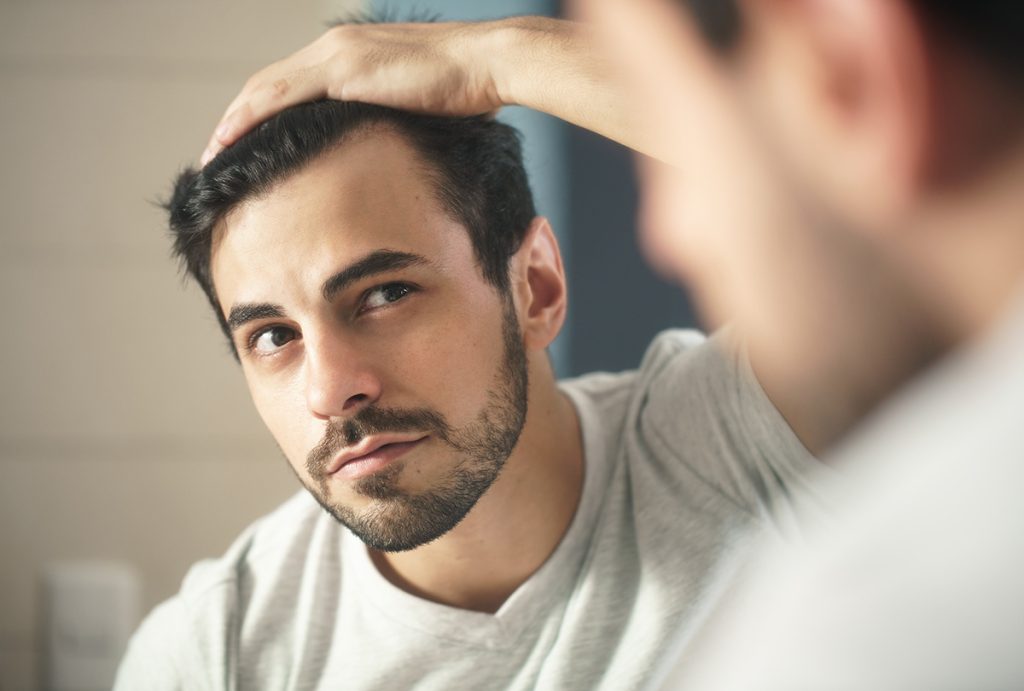 Hair loss is a distressing condition that affects both men and women. There are various causes and types of hair loss that can impact our self-confidence and overall appearance; androgenic alopecia, or male/female patterned baldness is the most common. If you are experiencing hair loss and it is affecting your quality of life, a wide variety of non-surgical solutions are available.
At Skinzone Laser & Cosmetic Surgery, we offer state-of-the-art techniques and advanced technologies to address hair loss effectively. Our range of treatments includes platelet-rich plasma (PRP) therapy, laser therapy, and exosomes. Both PRP and exosomes are part of a larger field called regenerative medicine, harnessing healing components that naturally exist within the human body.  As a cosmetic and reconstructive surgeon with over 25 years of experience, Dr. Hannah Vu can help you achieve the most natural-looking results and support the health of your hair in the long term. Her combined artistic and medical expertise makes her the perfect choice to guide your hair restoration journey. 
Give us a call at (626) 329-4555 (Alhambra, CA) or (714) 361-1555 (Santa Ana, CA). Alternatively, you can connect with us through our online contact form and we will be happy to get in touch with you as soon as possible. 
Causes of Hair Loss
Androgenic alopecia remains one of the most common hair loss disorders; roughly 80% of men and 50% of women experience its effects by age 70. (1) This particular condition is a result of sensitivity to androgen, a type of "male" sex hormone that plays a critical role in the pubertal development of both men and women. In general, people with this type have hair follicles with shorter anagen phases, or growth phases, and more androgen receptors to the scalp. So, even without a hormone imbalance, the scalp remains affected by normal amounts of androgen. All in all, it is caused by genetics, and it becomes more noticeable with age. 
Another common condition to know about is alopecia areata, characterized by patchy and unpredictable hair loss. While androgenic alopecia tends to happen over the course of several years and is predictable, alopecia areata can occur quite suddenly. With this disorder, the cells of the hair matrix (the area of the hair follicle that creates the hair itself) are attacked by inflammatory cells. Just like androgenic alopecia, there is a genetic component that can contribute to your likelihood of developing it. Luckily, some people can make a full recovery; about 34 to 50% of people with the disorder may have symptoms that resolve within 1 year. With a family history of hair loss, deformed nails, or a history of allergies, patients' chances of full recovery become slimmer. (2) This is one of the many reasons that undergoing treatments in a timely manner can support more hair regrowth; it gives you the best chance of restoring the hair that you've lost after experiencing alopecia areata. 
Treatment Options for Hair Loss
Hair loss, in a general medical sense, is referred to as alopecia. Common causes of hair loss are usually related to genetics, age, pregnancy, hormone imbalances, diet, stress, or immune deficiencies. A critical aspect to realize is that hair loss can sometimes be addressed by treating underlying conditions. When hair loss isn't related to an identifiable reason, topical and minimally invasive treatments can radically boost the hair growth cycle and prevent further hair loss.
PRP
PRP, short for platelet-rich plasma, is a treatment that utilizes the healing capabilities of your own blood. After your blood is drawn, it is placed in a machine called a centrifuge which spins the contents and separates the blood into its components. The blood is made up of 3 main parts- red blood cells, white blood cells, and a substance called plasma. While plasma is mostly made of water, it also contains electrolytes that maintain hydration, immune system molecules, and various proteins with bioactive factors.
These factors are molecules that serve a biological function within the body; specifically, growth factors (GFs) signal cells to reproduce and facilitate more cellular communication. (3) Some of the many growth factors that promote healthy hair are endothelial GF, transforming GF β, epidermal growth factor, and fibroblast GF 2; these, in particular, serve to prolong the growth of hair and stimulate the production of more blood vessels to provide nutrients for the hair follicles. (4) After Dr. Vu prepares the PRP, she will inject it into several areas of your scalp- effectively kickstarting these healing processes. 
Exosomes
Exosomes are tiny particles found within the extracellular matrix, the areas in between the cells themselves. They are structures that carry various proteins, fats, and organic substances called nucleic acids that maintain cellular health, help create new blood vessels, and serve immune functions. As a result, they help support the function of keratinocytes, cells responsible for the formation of hair itself. Finally, exosomes are capable of regulating immune functions, making them essential for ensuring there isn't too much inflammation within the scalp. Exosomes are processed into a topical form, making it one of the most convenient, quick, and effective treatments available. Their effects can be optimized if the patient undergoes a microneedling session prior to exosome application. The micro injuries caused by microneedling can allow the exosomes to penetrate deeper into the skin.
Red Light Therapy
Wavelength is a system of measurement used to describe each unit of light. Red light's wavelength is always somewhere between 620 and 750 nm. Recent research has found that 650 nm red light was effective at maintaining the anagen phase of hair. Through this process, it effectively delays the onset of the catagen phase, the hair-thinning phase of the follicle. (1) With this therapy, one of the main mechanisms of androgenic alopecia can be reversed. Since it is considered a low-level light, there is no risk of scarring or discomfort during the therapy session. 
Candidates for Hair Loss Treatments
Healthy men and women with a form of hair loss unrelated to a significant health condition can benefit from PRP, exosomes, and red light therapy. Ideal candidates should be non-smokers and have realistic expectations for non-surgical hair regrowth treatments. These approaches work best for those with androgenic alopecia. For those with alopecia areata, PRP may be the most ideal option to slow down the progression of the condition and restore areas of hair thinning.
Personal Consultation
During your personal consultation, Dr. Vu will thoroughly review your medical history, including any conditions or medications that may contribute to hair loss. We encourage you to schedule this appointment with Dr. Vu at our locations in Alhambra or Santa Ana, CA. She will carefully evaluate your specific needs and recommend a personalized treatment plan tailored to help you take back your confidence. Call our Santa Ana, CA location at (714) 361-1555 or our Alhambra location at (626) 329-4555. We will also be available to answer any questions if you use our contact form to get a hold of us. Don't let hair loss hold you back – take the first step towards a revitalized appearance today!
Preparation
Prior to your hair loss treatment, Dr. Vu will evaluate your health with several blood tests to ensure you don't have any vitamin deficiencies or thyroid issues. She will then advise you to refrain from using hair gel or other leave-in products for a few days before your treatment. Besides these preparation steps, there is not much you need in order to reap the benefits of PRP, exosomes, or red light therapy.
Recovery and Results
Topical exosomes and red light therapy are non-invasive and do not cause any adverse effects associated with invasive treatments. If you choose one of these, you'll be able to resume your daily routine as usual. With PRP injections, you may have a minor headache and some discomfort and/or swelling, but these symptoms usually subside completely within 2 days. After PRP, you'll begin to notice new hair regrowth and/or the slowing of hair loss within 3 to 4 weeks. Most patients will benefit most from 2 or 3 sessions of PRP, while the recommendations for exosomes and red light therapy may vary from patient to patient. At Skinzone, we encourage our patients to consider receiving more than one hair loss treatment for a more comprehensive plan.
Cost of Hair Loss Treatment in Alhambra, Pasadena, Santa Ana
At Skinzone Laser & Cosmetic Surgery, we believe in providing personalized care to our patients. To make treatments more affordable for any patient interested, we offer financing options with CareCredit. During your consultation, you'll receive an accurate cost estimate for your desired treatment. Our dedicated team is here to guide you through the process and answer any questions you may have. 
Please reach out to us by calling (714) 361-1555 for our location in Santa Ana, CA, or (626) 329-4555 for our Alhambra, CA office. We serve the Los Angeles County area including but not limited to Pasadena, Burbank, Hollywood, San Marino, Arcadia, San Gabriel, Montebello, Huntington Park, Whittier, Hacienda Heights, City of Industry, Temple City, Long Beach and more..  We serve Orange County including but not limited to Newport Beach. Laguna Beach, Huntington Beach, Santa Ana, Anaheim, Irvine, Tustin, Costa Mesa, Fountain Valley, and more. Please feel free to reach out to us with any inquiries through our contact form. If you'd like to see what other procedures and revitalizing procedures we offer, take a look through our blog. 
References